Ok I know I know, but I've been a busy bee. So first off, here is the little knitting needle case I made for Susan - all done but the binding.
My next task was going to be another Wounded Warriors quilt and I had packed my reds, whites and blues to that end. However, when I got to Michigan I received my Florida Keys Quilters newsletter and it said, We have enough red, white and blue. Make bright colors. oy vey So I shelved that and instead, bought MORE fabric, of course, to make my mum a little homecoming surprise for her antique sewing machine. A cute new cover.
Before: nasty plastic cover
After: ta da - pretty quilt-y cover
So, I said good-bye to Daddy and Rose and hopped the little rust bucket of a Delta plane back to Maine. I even had the same seat and I'm pretty sure it was the same plane except now there was a coffee spatter above my seat. And, I don't
even
want to think about why that was there. Turbulence, anyone?
Florence met me at the airport and we shared a couple of slices from the
Public Market
at Monument Square. . .
. . . before heading off to a much anticipated visit to
Soakology
. Yay! Shout out to the fabulous staff there! We both chose the Tea Tree, Rosemary and Seaweed pain relief soak with the 20-min massage. Oh, I highly recommend you visit if you ever find yourself in Portland, Maine.
Ok, so then we headed off home to a reunion with my girls on the loveliest day with Barbie Dreamboat waiting for us.
there she is!
the colors came out while I was gone
Florence and I had a whirlwind of activity before she left. We visited
Fiore
in Rockland for an olive oil fix.
Florence gets educated
We attended the Pemaquid Oyster Festival.
clean plate (shell) club
We took an aquaculture cruise on the Damariscotta River and learned about oyster habitat.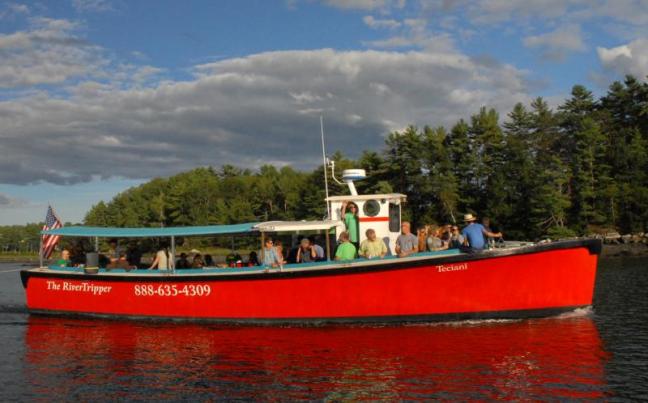 Teciani, an old navy boat
oyster hatchery, basically baskets strung together in the water
coming back toward town
So all of that, a sunset cruise on Barbie Dreamboat and a lobster dinner, then late to bed, early to rise and off to the airport again this morning and now you're all caught up with me.
So, what's new with you?